Department of Computer Science and Engineering
Message from HoD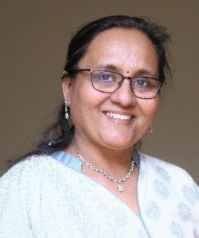 Dr. Rupa G. Mehta
Mobile No.9427113814
Office No.(O)0261-2201611

Office Email hod[at]coed[dot]svnit[dot]ac[dot]in
It is a pleasure to head the Department of Computer Science and Engineering in SVNIT. We are a team of experienced and motivated faculty members who are in process of tuning the young engineers through innovative teaching-learning process. Highly motivated students and researchers are our strong team members too, who are always eager to grab the opportunity to upgrade their skills.

On behalf of the department, I welcome our new director, Prof. Anupam Shukla, Professor,ABV-IIITM Gwalior. The leadership of our new director has poured the encouragement to attain higher academic milestones.

In the beginning of the academic year 2022-23, I wish the best academic growth of the department in terms of very good research activities and publications, Government-funded research projects and institute-industry partnership to enhance the industrial exposure of students and faculties along with good placements of the students. I look forward for students to participate in various coding competitions, hackathons, research presentations, startup drives, sports and many other intellectual co-curricular activities and make the department proud and so the institute.